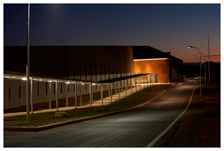 Headquarters Joint Operations Command (HQJOC) Information System Integration
Project JP 8001 Phase 2B, HQJOC was delivered for operational testing on schedule on 14 November 2008. On time, to the day.
Codarra Advanced Systems engaged to project manage the Command, Control, Communications, Computing and Intelligence (C4I) capability for the Headquarters Joint Operations Command (HQJOC) being established at Bungendore in regional NSW. The aim of this project was to integrate the various agencies responsible for the planning and execution of military operations in a state-of-the-art headquarters which is equipped with the world's best practice command and control systems.
New Army Truck Fleet Support
Codarra's military vehicle specialists have supported the Land 121 project with expertise in systems engineering and project management over a number of years. Codarra has provided specialist expertise in support of this project in the fields of C4I, vehicle electrical and mechanical systems, and multi-role modules/shelters. In particular, Codarra's work has covered a diverse range of activities, such as verification and validation, vibration and ride, specification writing, requirements management and management of systems engineering.